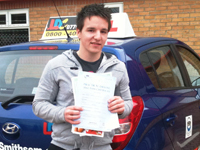 Adam Spiniello
Adam passed his test with 5 minor errors and said "It has been a pleasure to be taught by Paul. I thoroughly enjoyed every lesson and would recommend Paul to anyone."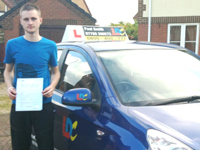 Ben Fawkes
My experience with Paul Smith has been a hard but fun time. I believe Paul has helped me achieve so much and he is a very good instructor and I wish him all the best in the future. He was always honest about the things you do wrong, but is always kind about it and explains how to do it right. Now I have passed my test I can happily say that I wouldn't have done it without Paul!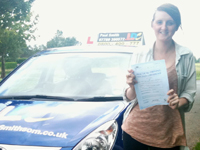 Brittany Walker
I already new Paul as he had previously taught my brother to drive. Paul is a brilliant, friendly instructor and I have really enjoyed learning to drive with him. Definitely a friend for life and I would recommend him to anyone and everyone!! Thanks Paul :)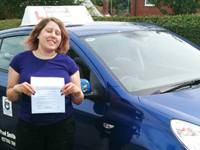 Catherine Baker
So very pleased to have passed my driving test. Many thanks for your patient and relaxed manner and for giving me the confidence to pass my test.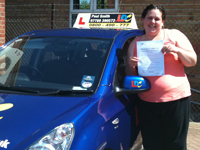 Charmaine Hall
Thanks for being brilliant and so patient, totally different to my previous instructors!!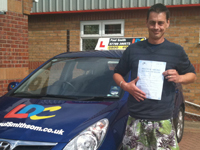 Chris Reilly
Had a great time learning to drive with Paul and can highly recommend him. Very calm and builds your confidence quickly. Thanks Paul.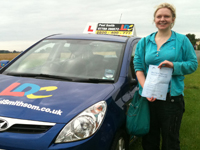 Christine Dobbin
Very happy to have passed my driving test today with Paul Smith LDC. It was really important that I passed as I live out in the middle of no where and needed to be able to drive to get to work.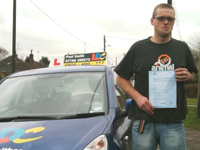 Craig Smith
Craig passed his test first time with 2 minors, which was a good thing as his new job depended upon him passing - no pressure! This was a bit of a Smith family effort (none of us are related) - Craig Smith, taught by Paul Smith and examined by Larry Smith! After passing Craig said "Paul is friendly and very easy to get along with. Paul is calm, explained any questions I had well and made me feel comfortable and at ease. I would definitely recommend Paul Smith LDC to everybody."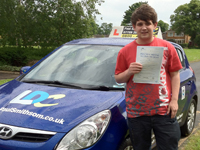 Daniel Whitrid
I really enjoyed driving with Paul as he made me feel very comfortable during lessons and I got on with him far better than my previous instructor as his teaching style was far better. I would definitely recommend Paul to people who are beginning to drive as I passed my test first time with him.
Eddie Pace
Eddie passed his test in Peterborough and his parents commented, "Thank you Paul. We are very pleased that you have got Eddie through his test - we feel he has learned to drive well rather than just pass his test. We shall be in touch regarding the Pass Plus Course after his exams when he has done a little more driving. Regards, Ges & Ian Pace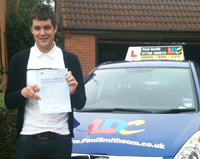 Edward Clark
I chose Paul as my driving instructor on the recommendation of a friend who had learnt with Paul. We quickly hit it off as we both support Leeds United! Paul has a great sense of humour and gets the balance right between being your friend and the professionalism of being your instructor. I am looking forward to my Pass Plus course where we are going to Leeds!! Thanks Paul
Harjinderpal Kaur
Harjinderpal had only recently arrived in Spalding from Birmingham and soon realised our public transport was not as good as her home towns, so good so decided to learn to drive. She commented, "Paul has been fantastic in teaching me to drive, answering all my questions and helping my overcome my fears. It has been a pleasure having had Paul teach me. Thank you so much for all your guidance and help, enabling me to pass my test first time with only two minors :)"
Helen from Crowland
To Paul, "You really brightened my day, thank you for everything you've done for me, you are a real star!" Helen x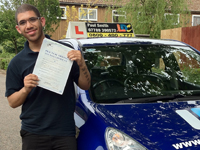 Ivan Da Graca
Thank you Paul! After having used 3 different driving schools Paul Smith LDC helped me achieve the impossible. I thought Paul was very friendly, yet professional instructor, who helped me get my license in time for the new baby coming. I have now booked my Pass Plus course where we are going to Barnsley!! I think this will give me the extra confidence so that I can fully enjoy my independence. All the best Paul, I will definitely recommend you to any newbie's! Thanks, Ivan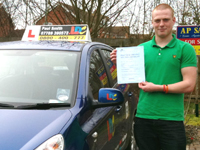 Jake Pettit
Jake passed his test first time with only a couple of minors and had the following to say about his learning to drive experience: "I thought Paul was a very good instructor. He shows you the best and the easiest way to do things. More importantly he is honest about how good you are and what you need to improve upon to do better!"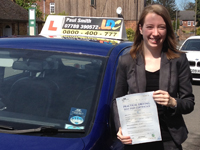 Jemma Gaze
Hi Paul this is Jemma Gaze's mum. I would just like to thank you for the wonderful job you have done in getting Jemma through her driving test first time. She is very happy and I am one very proud mum. Once again, many thanks.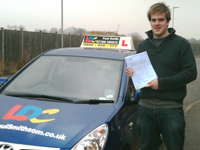 Jon Sealy
Jon passed his test in Boston first time with 3 minors. Jon stated - "Paul provided excellent tuition which was aided by the excellent LDC Workbook and DVD resources. Paul was an absolute joy to learn with and great value for money. I would definitely recommend Paul!"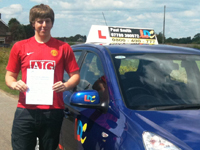 Jordan Pleyer
I had a great time learning to drive with Paul. Paul taught both my brother and his girlfriend before me and both passed first time so he came highly recommended. I did the same Semi-Intensive course and found the LDC workbook and DVD training aids complimented Paul's relaxed and patient teaching style.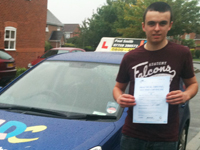 Joshua Coles
Really happy as I passed my driving test first time today with only 1 minor!! Thanks Paul :)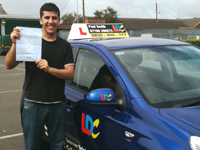 Kadim Majeedi
I am from Iran with no good English. I pass test first time with Paul help and only 4 minor problems. I very happy. Many thankyous Paul, very good teacher.
Karen Pursel
Dear Paul, Thank you so much for all your time and help getting me through my test. I have been having lessons for many years and found your system the most helpful. The home work book and DVDs helped me remember all the things we did during lessons and increased my confidence. I will be recommending you to others and hope to put my two sons in your hands soon, as I feel you will give them the best chance. Thank you once again for a most enjoyable and constructive experience.
Kayleigh Clarke
Paul is an Amazing Instructor who always does his best and pushed me to succeed. I will ALWAYS recommend him! *Thanks Paul you are a star*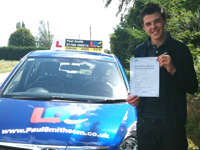 Kieren Weightman
So pleased to have passed my driving test today. The LDC way really works and I would recommend it and you to anybody learning to drive. My parents will be so happy now that I can drive myself to the early shift at work!! Thanks :)
Kirsty Fitzpatrick
Paul was a great driving instructor. Even when my test got cancelled he went out of his way to find a new date and I ended up doing my test 40 miles away in Lincoln. I don't think many instructors would be willing to travel to a test that far away. Thanks to Paul's patient and coherent approach I passed on my first attempt.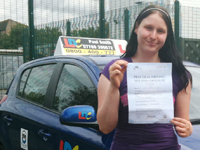 Kirsty Skutela
Thank you for getting me through my driving test Paul, it is such a relief. Now I can drive myself to work instead of relying on lifts!!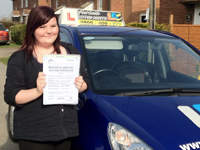 Lauren Kilsby
Paul is a relative that I never knew I had! He was recommended to me by a friend and it turns out that we are related to each other! After having found that we had much in common, I passed my test first time in Boston under Paul's tuition. Not only do I now have a driving license, but also a larger extended family :)
Lyndsey Singh
Lyndsey passed her test first time and said, "I wanted to thank you for everything you did for me, your support and encouragement really helped me. I felt so at ease having lessons with Paul. He is always calm, even when you make big mistakes and he makes you feel calm and relaxed from the very first lesson. I would recommend him to anyone."
Milly Futter
Thank you ever so much for being a fantastic driving instructor! Not only that, but a friend to chat and gossip with on a Friday afternoon! I'm looking forward to many years of motoring and my new found freedom. Thank you once again.
Oliver Pleyer
It has been a pleasure over the last 3 to 4 months to learn with you Paul. Will be in touch about Pass Plus! Would just like to thank you once again for the skills that you have taught me and the fact that I have picked up so much new knowledge. As for the service, it is without doubt very friendly, informative, but at the same time informal. For the whole time I felt relaxed and comfortable with what I was doing which added to my confidence. I had 100% fun at the same time as 100% learning, which can only bring with it the best results possible - and it did passing first time!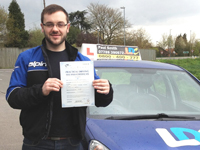 Patrick Morrissey
I live in High Wycombe and having had a few previous instructors, none of whom managed to get me through my driving test, I was advised by a relative in Lincolnshire to go with Paul. Even though it was a long way from home I decided to stay with my relative and do an intensive course with Paul. A great choice it was too - I passed my test with 1 minor. Thanks Paul.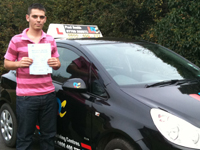 Robert Stall
Rob passed his test with 5 minors and said "I thought Paul's teaching fantastic, being well thought out and taught. I would recommend Paul to all!"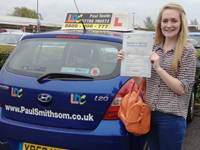 Robyn McGreary
Today I finally passed my driving test thanks to the patience and skill of Paul. I have had previous instructors who were not in the same league as Paul. I really didn't enjoy learning to drive with my previous instructors, but Paul's calm and structured way of teaching finally made me realise that learning to drive could actually be fun instead of being a chore. I would highly recommend Paul to everyone if you are looking to learn to drive.
Steve Moffoot
Steve was not the most confident of learners but passed his test with 7 minors. "I thought Paul's instruction was very patient and he boosted my confidence lesson by lesson and never lost faith in my ability to pass the test. Thanks!!
Suzy G-W
After previously being instructed by a different company a while ago, I have found the difference that Paul has made to me learning to drive huge. Paul is clear, concise, builds confidence in your own abilities and teaches you to drive - not just how to pass the test! You really do understand what you are doing and why!
Thomas Needham
Paul was a great instructor who is very easy to get along with and I would definitely recommend him to anybody looking to learn to drive. The LDC workbook and DVDs also helped me pass my test first time and complimented Paul's relaxed and structured teaching technique.
Tim Stoodley
Unfortunately I had my license revoked within the first two years of driving and needed a local instructor to help me pass my test for the second time. The difficultly was ironing out my bad habits and trying to teach me that I don't know everything! Paul was fantastic at this. Despite not needing to commit to as many hours as other students Paul still gave me the enthusiasm and push that I needed. He straight away saw my weak points and began working on them immediately. It took me very few hours to pass my test straight away and I believe this is credit to Paul's teaching method, which really worked for me. I can truly say that we came out of the experience as friends and I would whole-heartily recommend Paul to anyone looking for an instructor. Cheers Mate. Tim Stoodley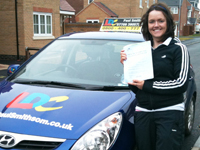 Tracy Vinnie
Tracy passed first time getting 7 minors. As Tracy had recently started a new job in Peterborough she wanted to pass quickly to avoid using public transport. Having passed she wanted to say "I have just completed a 20 hour Intensive Course and passed my test first time! Phew :) Big thanks go to my instructor Paul for his patience and commitment to my learning. I would highly advise this course with Paul to anyone with some previous driving experience and who wants an easy going instructor to work with. Thanks again Paul.